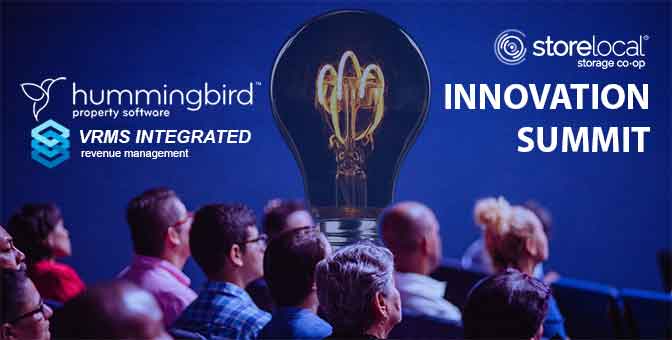 Storelocal Innovation Summit 2023
We are pleased to announce Storelocal will be holding their 9th Annual Innovation Summit. This members-only Summit will be on February 2nd and 3rd, 2023 in Newport Beach, California. On the second day, Tenant Inc. will be hosting their very first Hummingbird/Mariposa User Conference.
Storelocal members will learn directly about the VRMS/Hummingbird integration.
Dr. Warren Lieberman, President of Veritec Solutions, David Hoang, Associate Product Manager, Integrations of Tenant Inc., and Tenant's product management team will be available to discuss the recently announced integration between Hummingbird and VRMS. This presents an excellent opportunity for Storelocal members to obtain additional details about the features and benefits of how the two systems work together.
Hummingbird is a property management system (PMS) built for the self-storage industry by self-storage owners. As such, the Tenant platform integrates, automates, and standardizes the self-storage operator's business. This provides a consistent experience for self-storage rental customers from first-click to move-out. Unlike other PMS options, Hummingbird's open API gives operators visibility and flexibility of the complementary technologies they are using.
VRMS is the self-storage industry's leading revenue management system, powering what is now known as "Good", "Better", "Best" pricing. Performance results include documented revenue increase percentages that can reach double-digits. Equally important, Veritec Solutions designed VRMS with ease-of-use in mind. By such an emphasis, operators will more easily realize revenue management results. They will also enjoy significant time savings while integrating revenue management best practices.
VRMS/Hummingbird integration is seamless. Whether setting prices for new rental customers, or increasing rents for existing ones, operators can publish rate changes to Hummingbird with a touch of a button. Rent changes pushed to Hummingbird will trigger all relevant notifications sent to rental customers. This includes legally compliant rent change notices.
More information about Storelocal's 9th Annual Innovation Summit and Tenant Inc.'s Hummingbird/Mariposa User Conference can be found here. We look forward to speaking with members on the VRMS/Hummingbird integration.