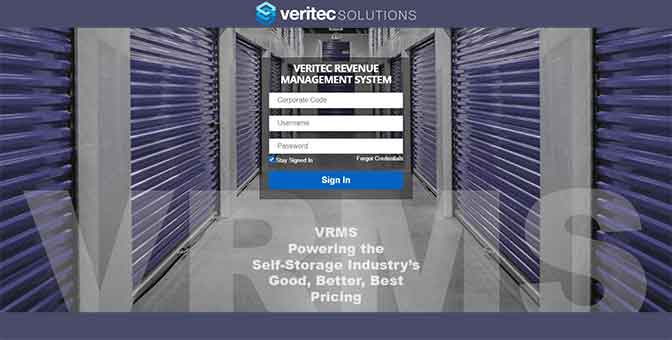 A Refresh And A Big Thank You
Veritec Solutions is happy to announce a refresh of our industry-leading self-storage revenue management solution, VRMS, with an updated log-in page, a new color scheme, an exciting new competitor mapping feature*, along with a variety of other updates. This is another way of saying a big "Thank You!" to all our clients, industry colleagues and friends that have supported us through the years.
VRMS users will see a number of visual enhancements that we hope are beneficial. The core functionality will remain the same, with a new mapping feature that will provide significant value when carrying out competitive analyses. We have thoughtfully placed this functionality throughout the interface where it provides the most value and convenience.
Veritec Solutions will plan to carry out several client training sessions to review these updates in the coming weeks. We encourage our clients to contact their Veritec account representative should they have any questions.
A Refresh and a big Thank You!
As of this writing, VRMS is now serving over 70 self-storage companies, and growing. Over 4,000 self-storage stores worldwide now use VRMS pricing analytics to manage self-storage rents. We attribute this steady yet explosive growth to the simple sophistication and low client risk of our software.
The easy-to-use, carefully designed graphical user interface has always been a VRMS strength. Now, we continue to strive and even further improve the user experience. The result, we hope, is an even more convenient way to set more profitable starting rates, manage rent increases, and administer good, better, best pricing.
This, all the while, codifying our deep expertise and self-storage industry best practices that is an integral part of VRMS. The result: increased revenue potential to our clients.
A refresh and a big "Thank You"! We look forward to any feedback our clients and friends may have. As always, we are constantly looking for ways to improve our offerings. Thank you for your continued support!
*Confidential client information is strictly seen and used by the client only. Competitor information provided to clients contains only publicly available information.