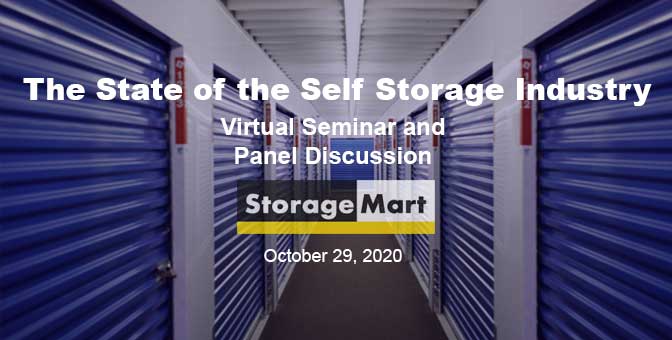 The State of the Self Storage Industry (2020)
The self-storage industry was having yet another banner year.  For U.S. businesses, self-storage offered cost-effective and flexible space management solutions; businesses were able to expand certain capacities without increasing fixed costs.  Urban residential trends further contributed to the Industry's growth. Then COVID-19 hit….
As we grapple with the economic impact of this global pandemic, what does it mean for the self-storage industry, regionally and nationally?
We are pleased to announce Veritec's Dr. Warren Lieberman will be joining Mike Burnam, CEO, TKG-Storagemart Partners, L.P., Alex Burnam, Director Acquisitions and Real Estate, TKG-StorageMart Partners, LP , and Scott Zucker, Attorney, Weissmann Zucker Euster Morochnik & Garber P.C., to discuss these and other important issues affecting the self-storage industry.
This virtual seminar and panel discussion is to be held on Thursday, October 29, 2020, 2:00 – 3:00 pm Eastern Time.
Special thanks to StorageMart's Mike Burnam and Alex Burnam for sponsoring this event!
Event Update!
See below for the actual session.
| | |
| --- | --- |
| | David Paulson |
| 0:00:00 | Introductions |
| | Mike Burnam |
| 0:05:43 | StorageMart Introduction and History |
| 0:09:38 | Self-Storage Marketing Considerations and Players |
| | Alex Burnam |
| 0:15:40 | Future Concerns, Over-Supply, and Demand |
| 0:24:05 | Return to Normalcy and Business Intelligence |
| | Scott Zucker |
| 0:38:26 | Price Gouging Laws and Its Impacts |
| 0:44:10 | Liability and Site Safety |
| 0:45:30 | CARES Act Impact |
| | Warren Lieberman |
| 0:53:17 | Three Sample Markets Pricing Data Review |
| 0:55:48 | Active Price Management |
| 0:57:40 | The Rent Increase Trade-off Point |
| 0:58:32 | South Florida Case Study |
| | David Paulson and Panel |
| 1:05:58 | Question and Answer |