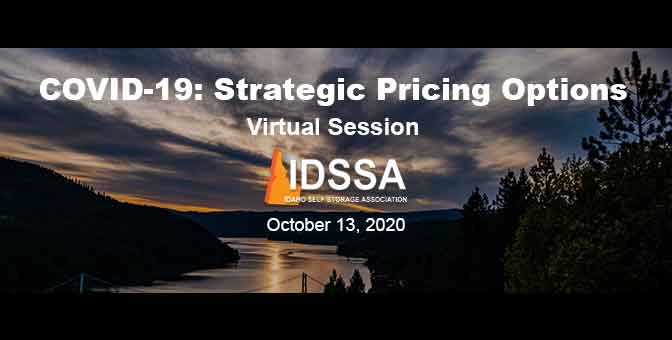 COVID-19 Pricing Strategies Presentation
We are happy to announce that Dr. Warren Lieberman, President of Veritec Solutions, will be making a virtual presentation to the Idaho Self Storage Association on a timely and relevant topic, COVID-19 Pricing Options for Self-Storage.
COVID-19 has affected self-storage pricing, often in dramatic ways.  Warren will outline what pricing strategies self-storage operators have adopted during these pandemic times. He will review the relative advantages and disadvantages of each strategy.
During these states of emergencies, operators have often taken a more risk averse approach to prices and increases.  Warren will highlight instances where taking too safe an approach may in fact increase risk in the longer term.
COVID-19 increasingly appears to be one of a series of ongoing emergencies, as we deal with wildfires in the west and hurricanes in the south. Pricing during states of emergencies may be a new normal that we must all confront.
Warren will be presenting at the Idaho SSA Annual Meeting on October 13, 2020 from 11:05 AM – 11:50 AM MST. See the Idaho Self Storage Association Events page for registration and event information.