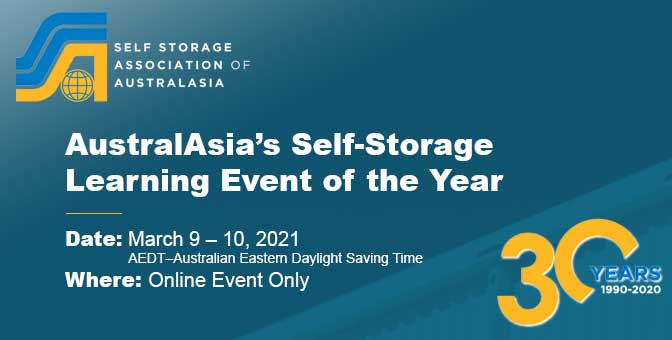 AustralAsia's 2021 Self-Storage Learning Event of the Year
We are happy to announce AustralAsia Self Storage Association's Learning Event of the Year! This will be a two-day online event, starting on Tuesday, March 9, 2021, 10AM AEDT (Australian Eastern Daylight Saving Time). The online event will allow you to access it conveniently from anywhere in the world.
This Learning Event of the Year brings leading speakers and experts together in accelerating the self storage industry, along with Australia's and New Zealand's leaders of today and tomorrow.  They will give us the knowledge and insight we need to compete — and win — in an ever-changing world.
In fact, Veritec's Dr. Warren Lieberman and Jim Mullin have been invited to present at the conference. Their topic, "Pricing Pioneers: Exploring Real-World Opportunities in Revenue Management", will be on the first day, Tuesday March 9th at 12:20PM AEDT with live Q&A.
Warren and Jim will discuss the three key areas of revenue management for operators of any size. They will be sharing their decades of self-storage revenue management expertise, having worked with a range of operators around the world implementing proven revenue management systems.
Also, they will highlight common misunderstandings that get in the way of maximizing profits.  They will explain the practical analytics and approaches they use to help their clients make profitable decisions.
Over the course of the entire 2 days, you will hear from many other experts in the self storage industry. They will reveal various innovative methods to market your facility, with new software and technology systems to smoothly run your facility. Want to build or expand your facility? There is a wide range of design and construction companies that can provide both expert advice and practical solutions.
Register now for this can't miss AustralAsia's Self-Storage Learning Event of the Year!