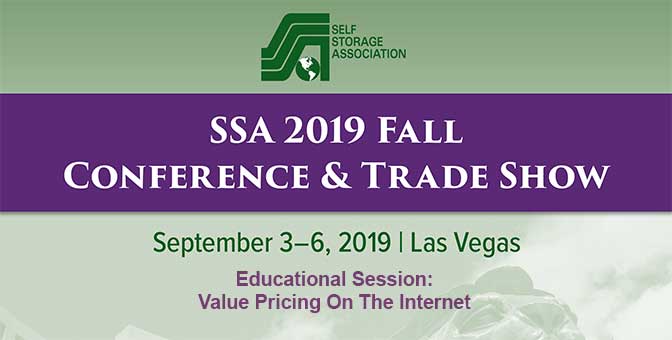 Self Storage Value Pricing On The Internet
We are pleased to announce that Dr. Warren Lieberman, President of Veritec Solutions, will be a panelist on what is an increasingly critical topic, Value Pricing on the Internet, at the SSA 2019 Fall Conference & Trade Show. The panel will be held on Thursday, September 5th, at 8:45AM in the MGM Grand, Las Vegas.
Jim Mooney, Jr., of Freedom Storage Management, will be moderating the panel.
Managing the Transition to Value Pricing
We all know that the industry is moving towards self storage value pricing, also known as convenience pricing or differential pricing.  That means the more desirable or convenient units are rented for higher rates, all within each unit group.
But then, a central question becomes how can self storage operators manage this transition to altogether increase revenues, improve customer service and benefit the industry as a whole. One area of particular concern, and opportunity, is how to best integrate value pricing with websites.
Are interactive site maps the future?
Should web sites offer the opportunity to upgrade prior to or after a reservation is made?
What are the elements of customer psychology to consider?
Warren will be joining a panel of industry experts to address these and other critical questions,
making this a session not to be missed!
Register now for the SSA 2019 Fall Conference & Trade Show at the MGM Grand in Las Vegas!