Making Yield Management Work for You: Ten Steps to Enhanced Revenues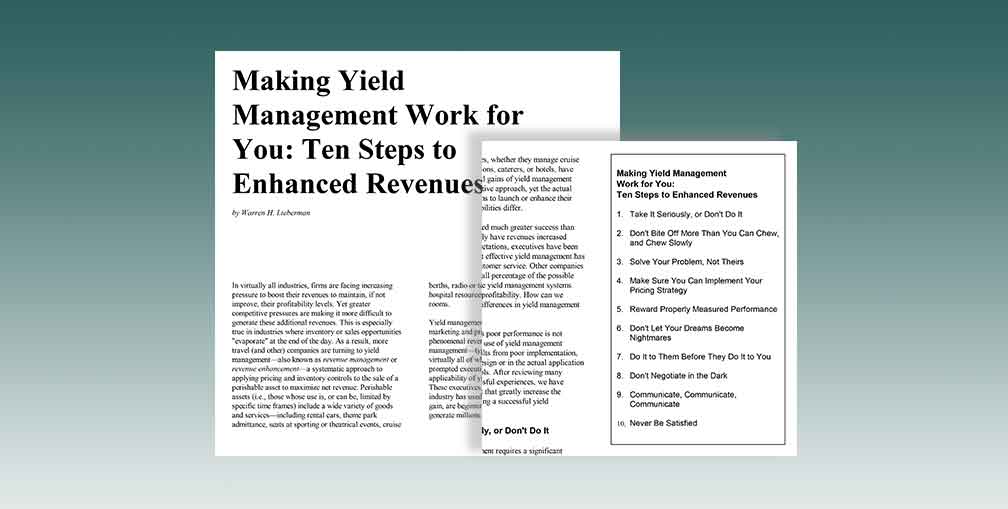 In virtually all industries, firms are facing increasing pressure to boost their revenues to maintain, if not improve, their profitability levels. Yet greater competitive pressures are making it more difficult to generate these additional revenues. This is especially true in industries where inventory or sales opportunities "evaporate" at the end of the day.
As a result, more travel (and other) companies are turning to yield management—also known as revenue management or revenue enhancement—a systematic approach to applying pricing and inventory controls to the sale of a perishable asset to maximize net revenue.
Perishable assets (i.e., those whose use is, or can be, limited by specific time frames) include a wide variety of goods and services—including rental cars, theme park admittance, seats at sporting or theatrical events, cruise berths, radio or television advertising time, airline seats, hospital resources, utilities, freight shipments, and hotel rooms.
by Warren H. Lieberman | Published in Travel, Tourism, and Hospitality Bulletin Feb 1991